Strange Times: How Covid-19 Altered Memorial and Independence Days
Today is Israel's Memorial Day, and the Eve of our Independence Day, and as we go thru the ceremonies, we all just can't get over how wrong the pandemic has made everything.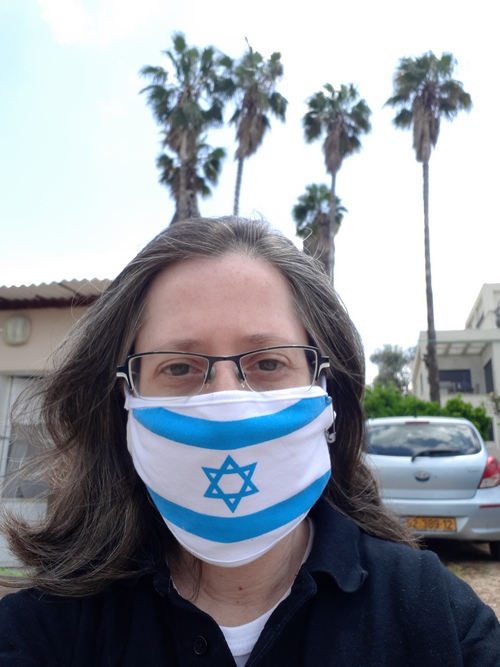 Instead of coming together and hugging a lot, we resort to standing on the balcony, waving at the news-camera drone.

Instead of going to the military graveyards and pray for the souls of our dead soldiers, families and friends are instructed to stay home and light a virtual candle.
We light the virtual candle so that others would see it, because no one can see the real candle you lit on your kitchen counter.
Elderly mothers of the fallen sit at home today, completely alone, because no one is allowed to visit and give them a hug. The best we came up with is two volunteers standing outside with a flag during the siren.
For Independence day, there will be no fireworks this evening - we need the money to support those who have lost their jobs and need the community's help to put food on the table. 
There will be no massive, crowded barbecues tomorrow

Israelis are still buying meet and will do the traditional "Mangal" at home.
There's going to be another all-encompassing curfew on our day of Independence - No one is to leave the house.
The Air force will fly over hospitals this year, and the aerobatic team will have no one to show their loop-de-loops to. 
If I sound despondent it's because I feel that this Pandemic is robbing us of everything that makes human society "human". 
I miss the hugs, the touch, the crowds gathered to mourn and celebrate together. Both these things - grief and celebration - were never meant to be done alone, and in Israeli society that is more pronounced this year than ever.
These events have been robbed of their baseline purpose, which is to bring us together. After the past few weeks of shutdown I can firmly say: no touch screen could ever replace the human touch.
Stay safe everyone, and here's hoping for better times,
Netta.
April 20th
Remember. יזכור

This eve Israel commemorates the Six Million Jews who were murdered in the Holocaust (Shoa).
Just like the Corona virus pandemic changed the way we celebrated Passover, it now changes the way we mourn. The sign in the picture below reads:
"(The) Ceremony for the Holocaust and Bravery Remembrance Day will be broadcast on the Municipality's Facebook page"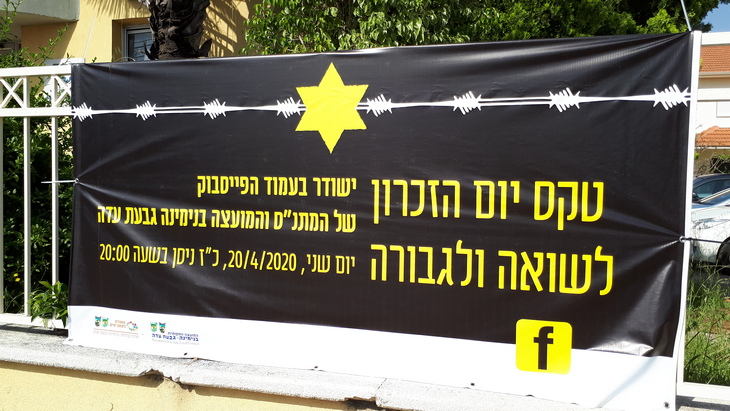 Instead of gathering and telling the stories and singing the songs together, we will stand on our balcony today and tomorrow for the siren, and watch all the ceremonies online.
I feel this goes against everything human. I send a big hug to the survivors, and to my fellow human beings.
I remember.
Three Graphic Novels tell the Story of the Shoah
Anne Frank, Hertzko Haft and Michel Kichka tell the story of the Shoah from it's beginning till today in three graphic novels.
---
A Zoom Seder: Corona Virus Update #6, April 15th
Making Haroset all by myself for a Zoom Seder
The Zoom Seder Dinner was one of the strangest and also saddest Seders ever.
Let's just hope it was a one time thing... Continue reading >

---
The Canfi Family Secret Haroset Recipe is Now Free:
I had to make the Haroset all by myself this year. 
After a lifetime of keeping this recipe secret, my dad decided it was time to release it to the world > continue to recipe
---
Stuck at home quarantine because of the Coronavirus?
Here are some special and interesting coloring pages for adults and teens, to help you pass the time!
* there's a new glider coloring page - scroll and see!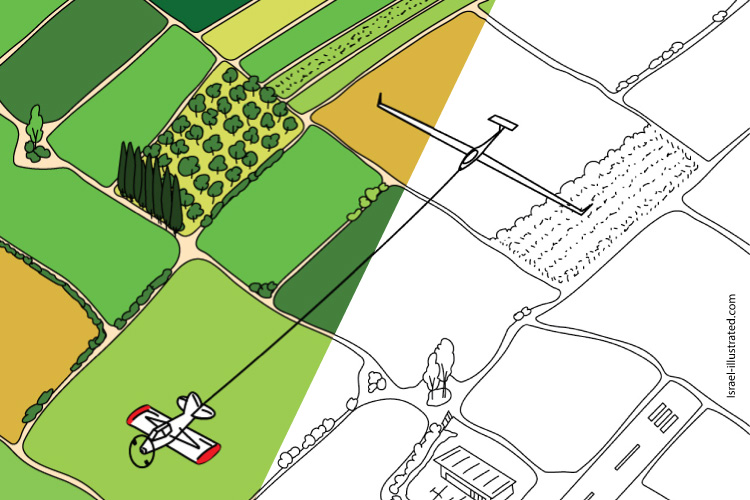 ---
Tel Aviv Urban Sketchers go on a Field Trip
In the dead of winter, we set out to draw in Kiryat Tivon. It was so nice to meet face to face with people I've only known thru facebook! I've also discovered a great artist - come and see >>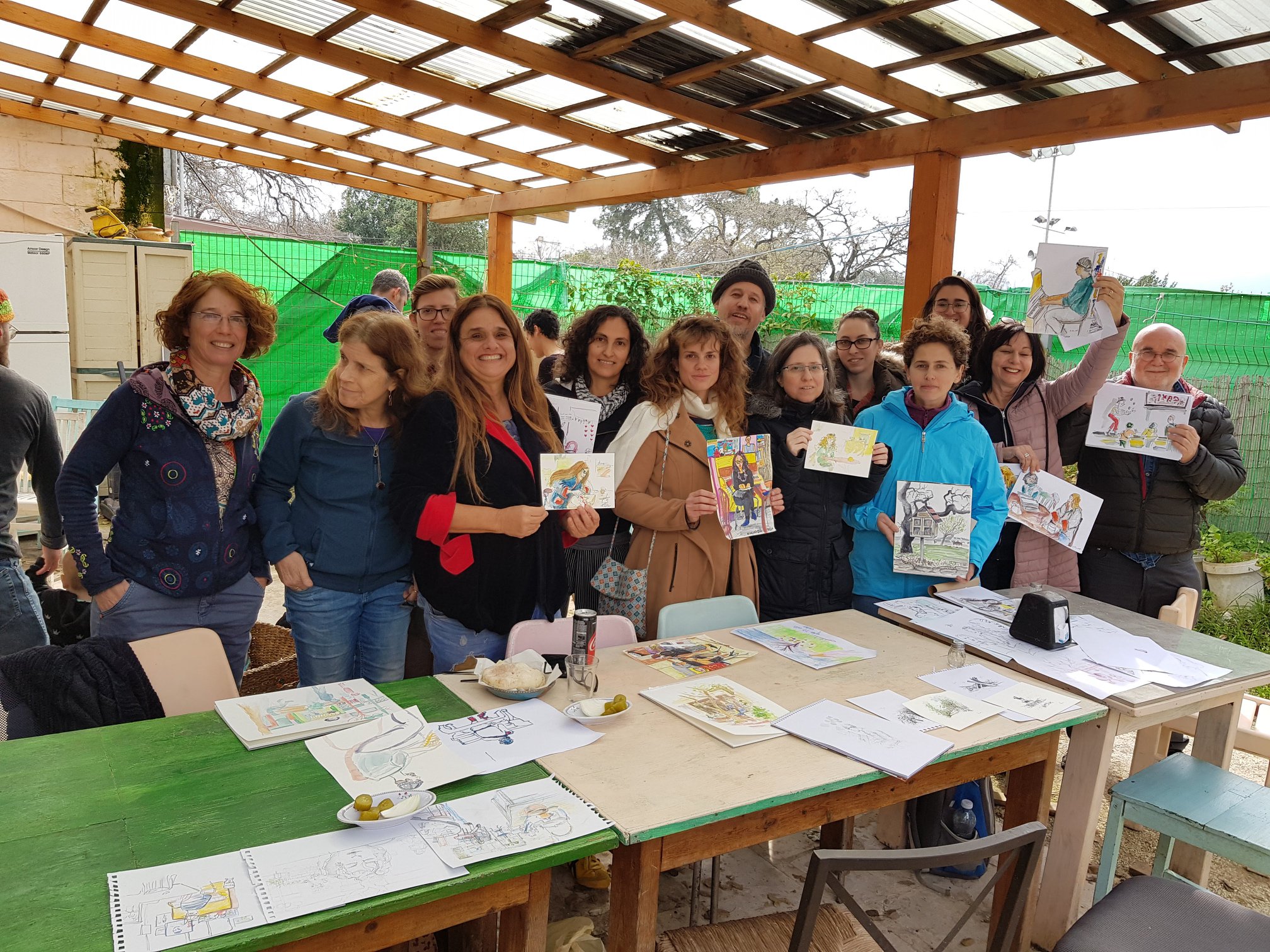 ---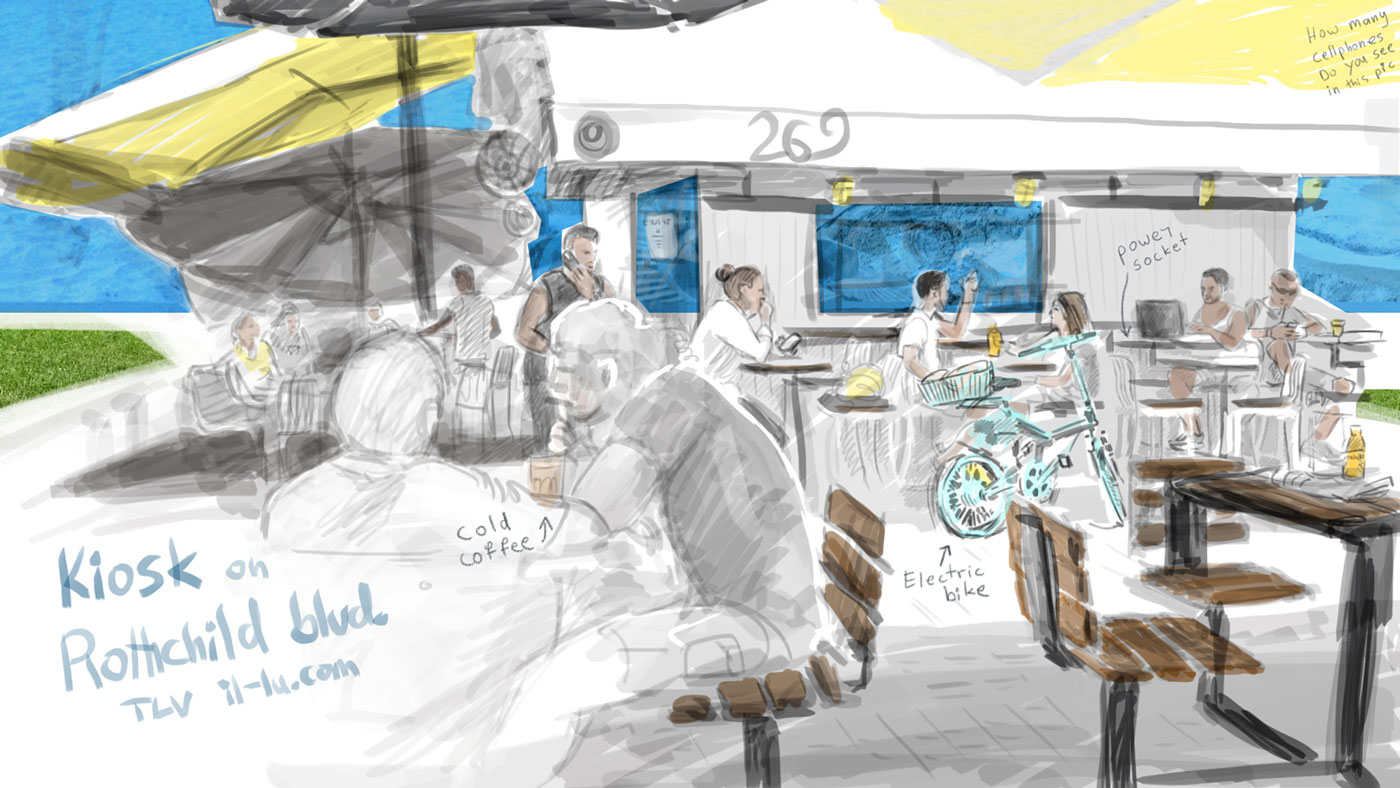 Living in Israel
Stories that illustrate what life in Israel is really like - for example, the Cafe-Kiosk where the wifi is free and everyone you meet has an idea for the next great startup :-)
---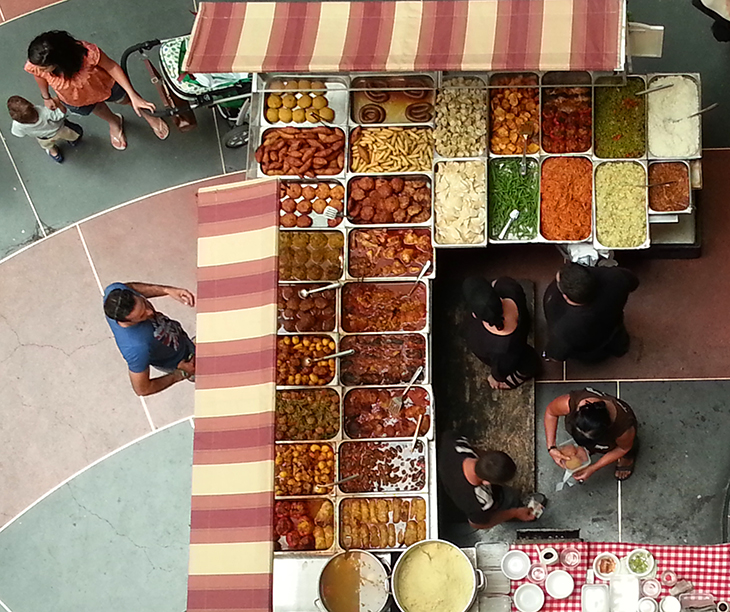 We love to eat. 
Israeli food is the delicious culmination of jewish eating traditions from kitchens all over the world ("you look pale, eat something"), meeting the fresh mediterranean diet. 
Falafel and Humus, juice stands, sushi bars, steak houses, vegan menus and everything in between - we've got it all.
Sit in one of the fashionable sidewalk cafes in Tel Aviv, order a big salad and ice coffee, and you'll never want to leave :-)
Try the recipes for the classic Hummus recipe, and how to make Labane cheese:
---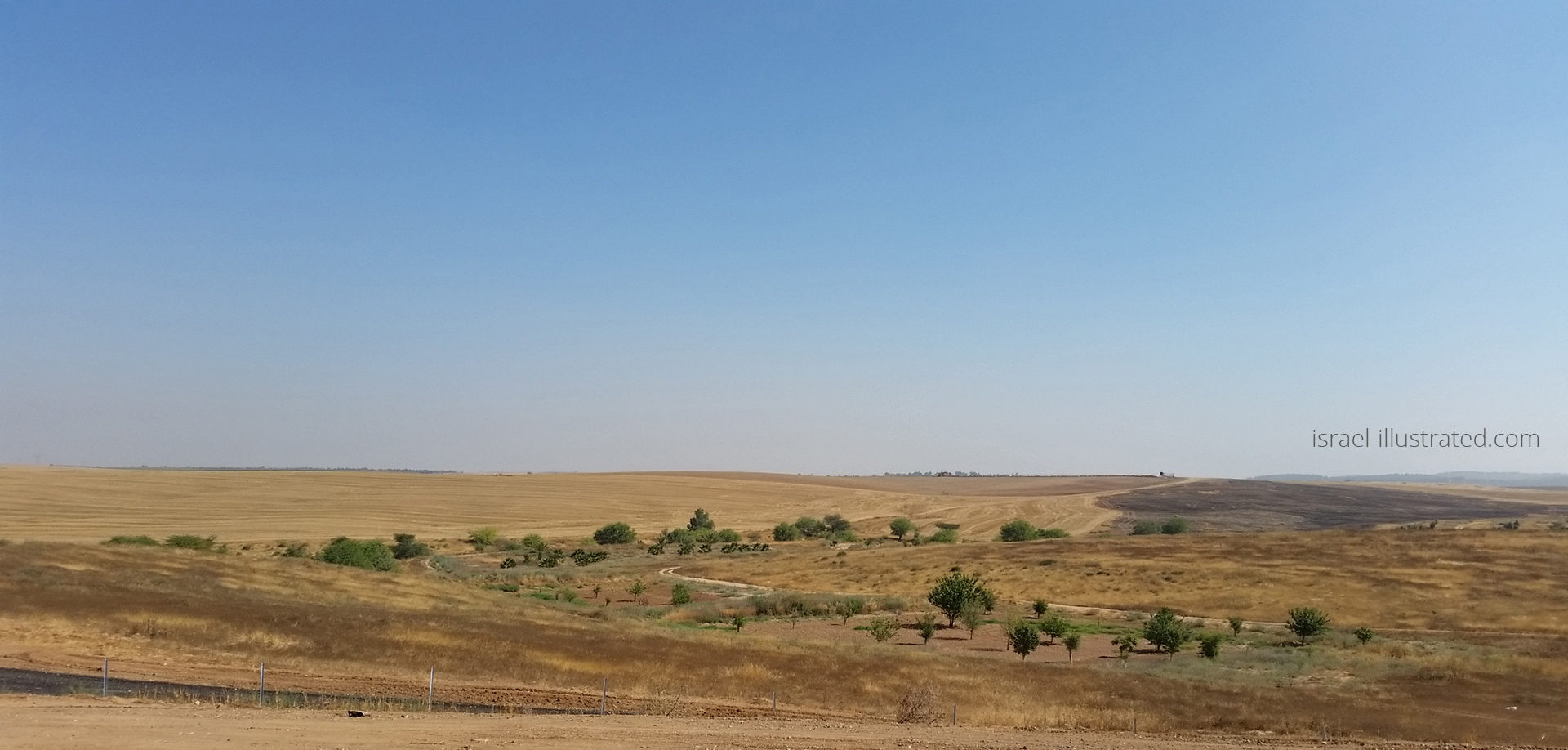 The weather in Israel is both a challenge and an opportunity. 
For example, practically every house in has a solar water heater, and we solved the worst of our drinking water shortage with desalination technology. 
Still, the heat is part of our daily life, so we need to find ways to live with it.
Find out how we save water, 
And when you go shopping in Dizengof Center, make sure to visit the Hydroponic farm on the roof!
Whatever you do, please don't miss the warning about the Israeli SUN:
---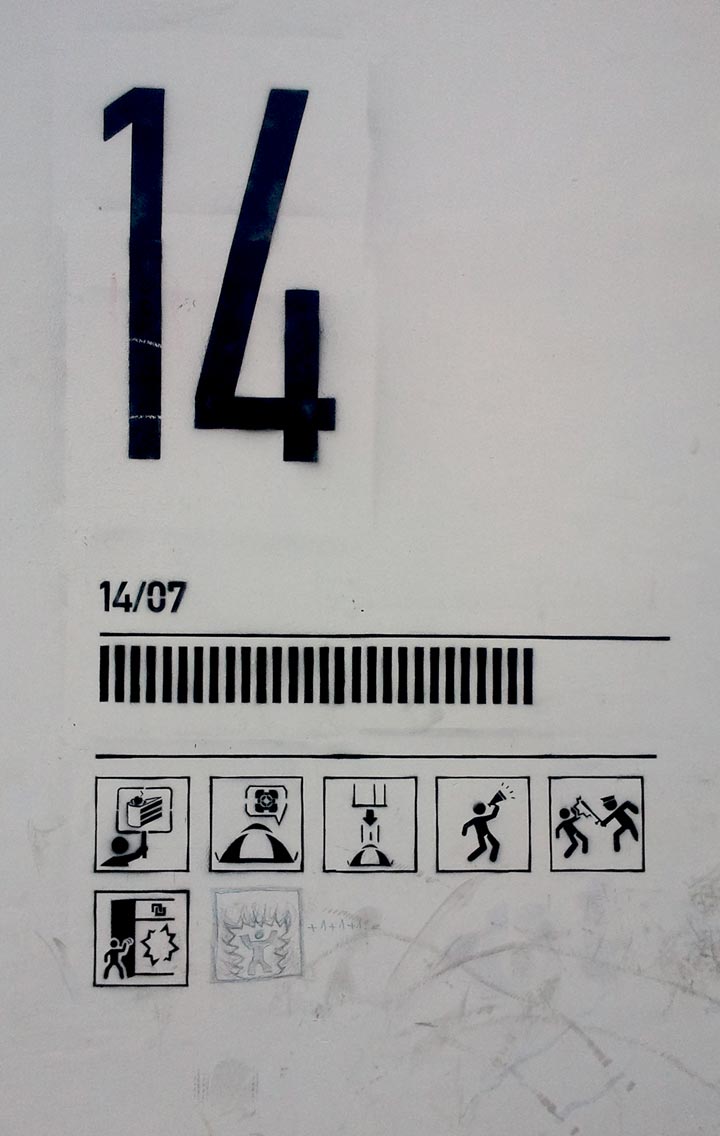 Tel Aviv street art
The writing's on the wall, especially here. 
What I find so unusual about Israeli graffiti, is how much of it its text, or text based. Walking the streets of Tel Aviv is like reading a coded newspaper. Here's this wall for example, depicting the events of "the Tents Protest":
---
A quick note about phonetic spelling:

There are lots of names and words on this site that are phonetic transcripts from Hebrew. The way to read them, and pronounce them, are according to the basic vowel sounds:
A – say "ah"
E – "eh"
I – "ee"
O – "oh"
U – "oo"
---
---
---
---
Copyright notice –
All visual material and other materials on this site are copyright of israel-illustrated.com, unless indicated otherwise.