The REKAB Brush Factory: Two Excited Artists Visit the World-class Brushmakers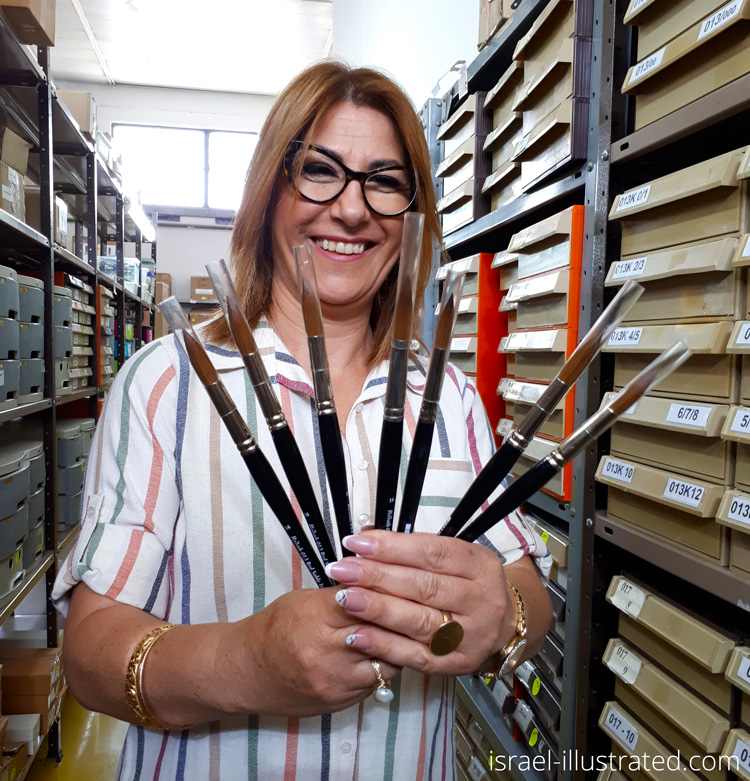 Yaffa, presenting watercolor brushes
We just got in the car and drove up there. 
The Rekab Brush factory, world-class brush makers since 1914, sits in Ma'alot, at the northern top of Israel.
My fellow artist and good friend Lena came to draw with me in the studio. She is practicing watercolor techniques and I lent her my old Rekab 016 Sable-Ester brush. 
By 'old' I really do mean old - I've had this brush for 24 years! And it's still amazing (I take good care of my brushes). 
After trying it Lena wanted one for herself, but they turned out to be both pricey and hard to find in the less-central parts of Israel. When we looked to buy one online, we suddenly realized that the workshop that makes them is right here, an hour and a half away.
We called them and asked: "Where can we get your brushes?"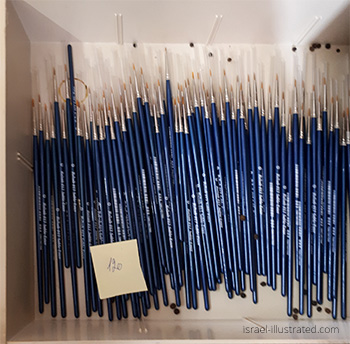 The people in Rekab were so nice, they invited us to visit the factory and get what we want straight from them. 
They have an outlet shop where you can visit, and they also offered to mail us anything we wanted, just drop them an e-mail and ask. You can see the catalog here: http://kim-brushes.com/kim/products
You can also write them an email.
Lena and I got in the car and drove up the Galil mountains to Maálot to see how these fabulous brushes are made. 
The Rekab Brush Factory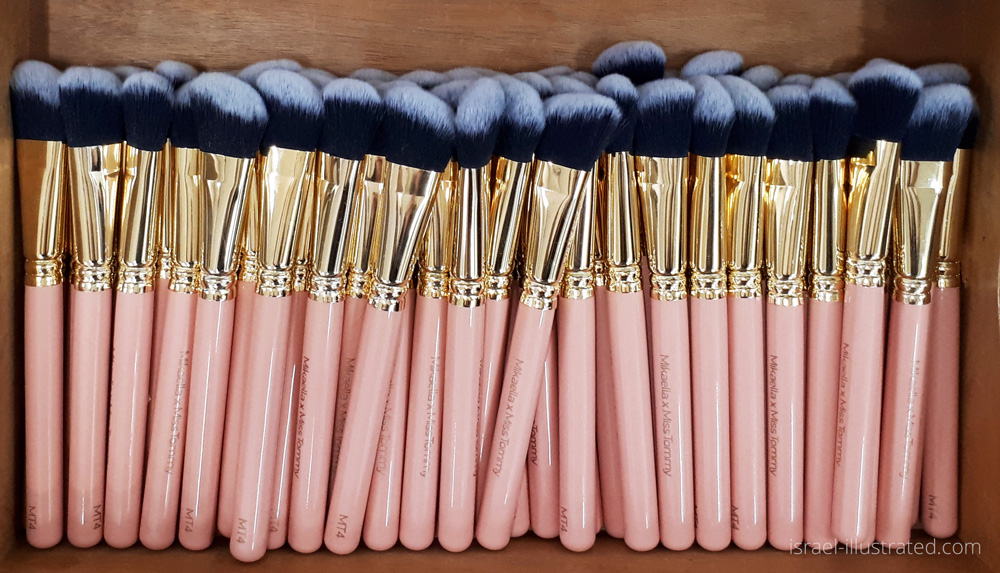 Yaffa greeted us in the workshop. It's not a big place, in an un-assuming industrial area, sitting on top a beautiful green mountain.
She showed us to the nice shop off to the side, which to my surprise was showing an impressive display of make-up brushes. 
I learned they make those too, under the brand name Kim-brushes.
In fact, all the makeup schools come here to get specialized brushes, and make-up artists come to get special made custom brushes made to spec.
But we came for watercolor and oil color brushes.
We showed Yaffa my old water color brush. She was amazed, and took us back out to the workshop to show it to Janet.
Janet was at her work station, expertly making a bunch of round fluffy make-up brushes. She's been doing it for 34 years. Watching her work was incredible. (Don't miss the video further down the page!)
Yaffa showed her my old water-color brush, which she very well might have made herself 24 years ago. Everyone was excited and they passed it around.
I also showed them an old oil color brush I had bought at Harrolds in Rotterdam, which I know was made here too. I wanted a new one, as this one was really worn out. I showed that brush to Janet and she asked if I had trimmed it. I said no, it's just totaly worn out!
But where were they hiding all the art brushes?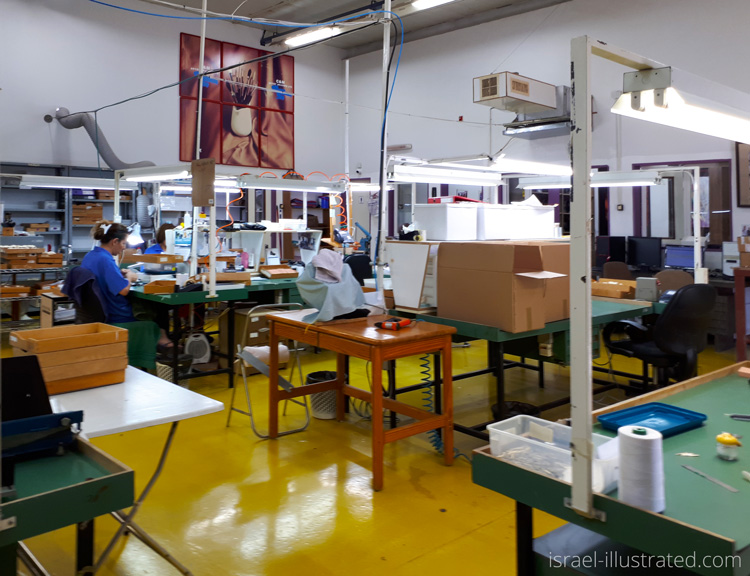 The Rekab Store Room: O.M.G.
Yaffa finally took us to the store room.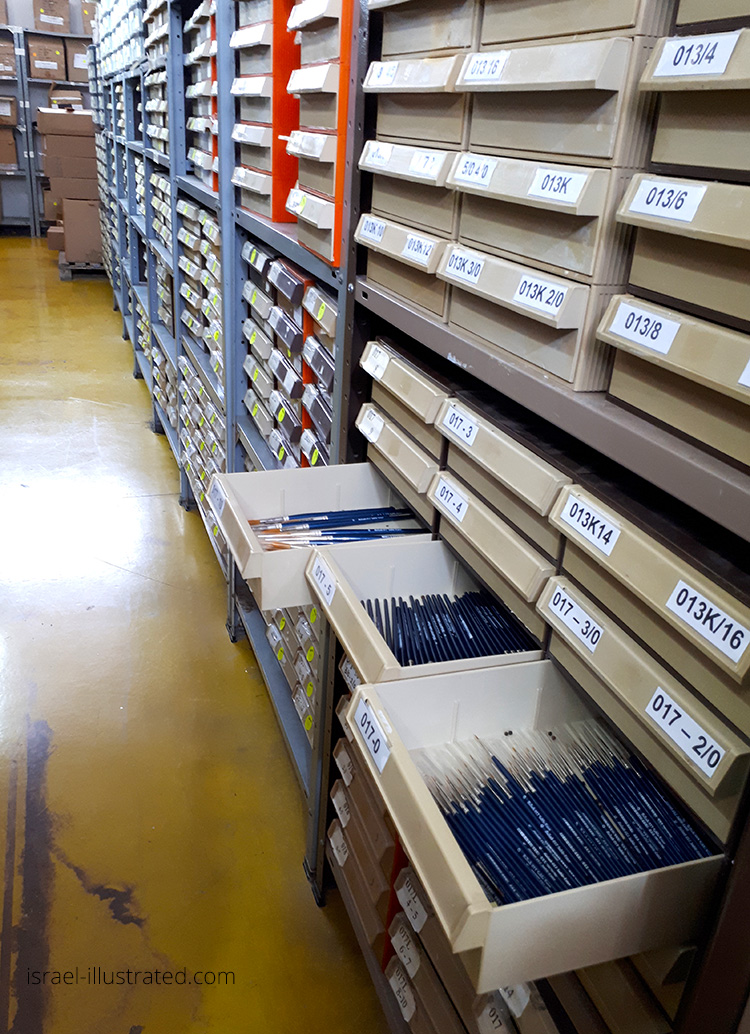 I get the sense that they don't have many artists coming over, because on display at the shop were only make up brushes. This however, was something else entirely.
She started opening drawers for us.
I felt like Indiana Jones; every drawer had a different kind of treasure in it.
Watercolor and Oil Color brush wonderland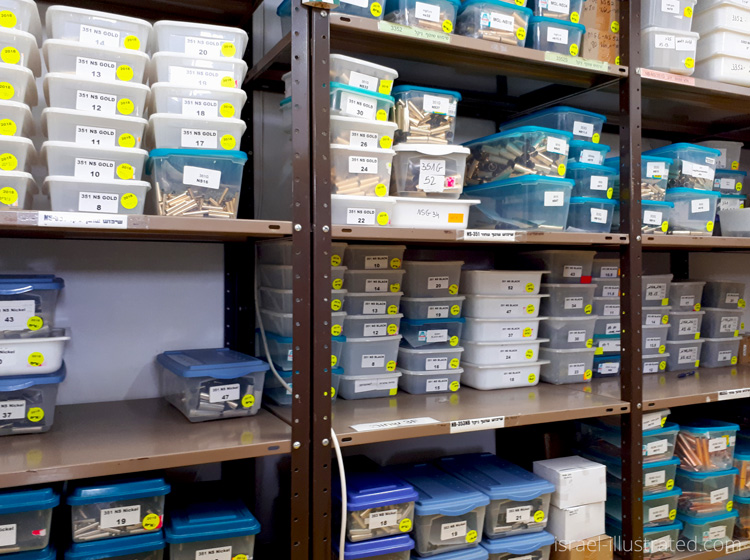 Brush parts
Drawer after drawer had big fluffy watercolor brushes, springy oil brushes, from sable and squirrel and goat and hog. 
Natural and synthetic blends. New cool things, alongside a drawer filled with traditionally crafted ceramic-glazing brushes made especially for a pottery maker in England.
Custom makeup brushes for body paint artists, very-wide brushes for oils that I desperately wanted, long thin riggers for line work - gosh we just couldn't get enough.
At some point Yaffa just let us open any random drawer and then explained what was in there. We were HIGH lol.
To one side of the store room were all the parts used to make all this happiness: Barrels and handles and ferrules and what-nots. 
What does Rekab mean?
Yaffa told us the secret: 'Rekab' is "Baker" in reverse. 
Mr. Percy P. Baker, was one of the best artist brush experts and producers of all times. He started making artist brushes in London in 1914.
On 1979 the factory was moved to Israel and since then is located in Ma'alot.
It's quite the story, from Prussia to the Blitz of London to Israel - you can read it here at Grace's Guide to British Industrial History.
How do you get to work there? Well, it takes years and years of training. All the brushes are hand made, and most people have been a part of this family for decades.
Just look at this video:
Happy Artists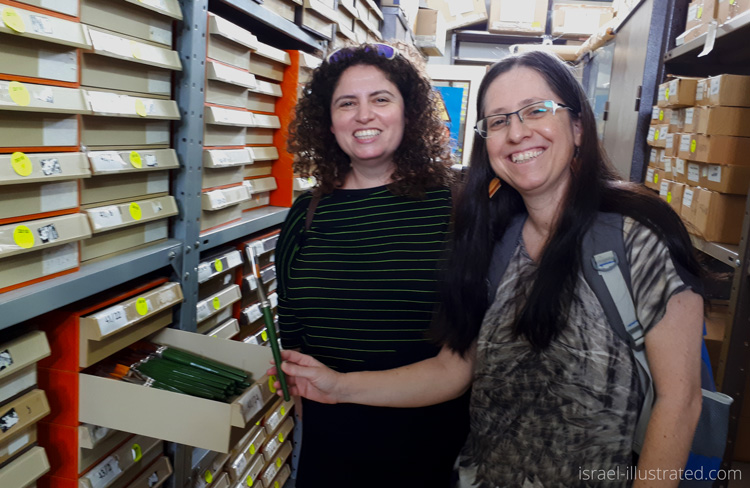 Lena (left) and Netta, two very happy artists :)
Needless to say, we came away with a large bounty. I also got a few makeup brushes because I wanted the special textures.
Then Yaffa pampered us with coffee and a friendly chat in the kitchen and really, we just didn't want to leave.
If you are an artist visiting Israel, you owe it to yourself to come here:
All the contact details are in this link:
http://kim-brushes.com/kim/contact_us&lang=en
and again, this is the link to the catalog, if you can't come over yourself:
http://kim-brushes.com/kim/products
Enjoy!!
---
---
---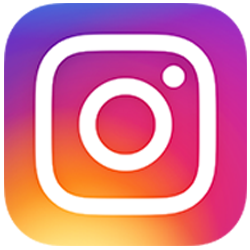 Follow Me on Instagram:
https://www.instagram.com/nettacanfi/
---
---