Marking 30 Days to the Black Sabbath
Men.Women.Babies.Eldrely. Still Held Hostage by Hamas #BringThemHomeNow
Update 9th November 2023
Today we mark 30 days since the October 7 Massacre.
239 Confirmed Hostages in Gaza, including a 9, no wait, Kfir is now a 10 month old baby, 38 children, and many foreign nationals.
One 8 year old girl who was thought dead, is now a confirmed hostage.
Just imagine the horror her parents are going thru.
The numbers are still changing because not all the bodies or human remains have been identified yet. At the same time, we still have 24 people who are unaccounted for. We don't know if they are dead or taken, only that they're missing. 
Two groups of people came forward to help:
Archeologists and Ornithologists.
The first are experts in finding human remains in "Disaster Layers".
Only this time they didn't have to dig.
They have managed to find bone fragments and personal items that helped identify people who would otherwise been left as an anonymous pile of ash.
Ornithologists gave the recovery team GPS data of carrion birds with trackers. 
The birds do what they always do in nature: clean up corpses.
The birds located quite a few bodies out in the fields that might have never been found otherwise.
Especially in the Nova music festival massacre, people ran everywhere trying to hide in the bushes and ravines. It's a large area to cover. A month later we are still finding people who died there.
The number of people injured is 7,500.
How many will have to go on living with life altering injuries? I think we should keep account of them too.
Anyway, I hope Quentin Tarantino is taking notes, bless him. I think at this point he's the only one who'll be able to do this story justice. 
---
Update 2nd November 2023
242 Confirmed Hostages in Gaza, including a 9 month old baby, 30 children, and many foreign nationals.
You can download, print and put up the posters of the kidnapped from this website.
It's the original source of the kidnapped posters created by Israeli street artists Nitzan Mintz and Dede.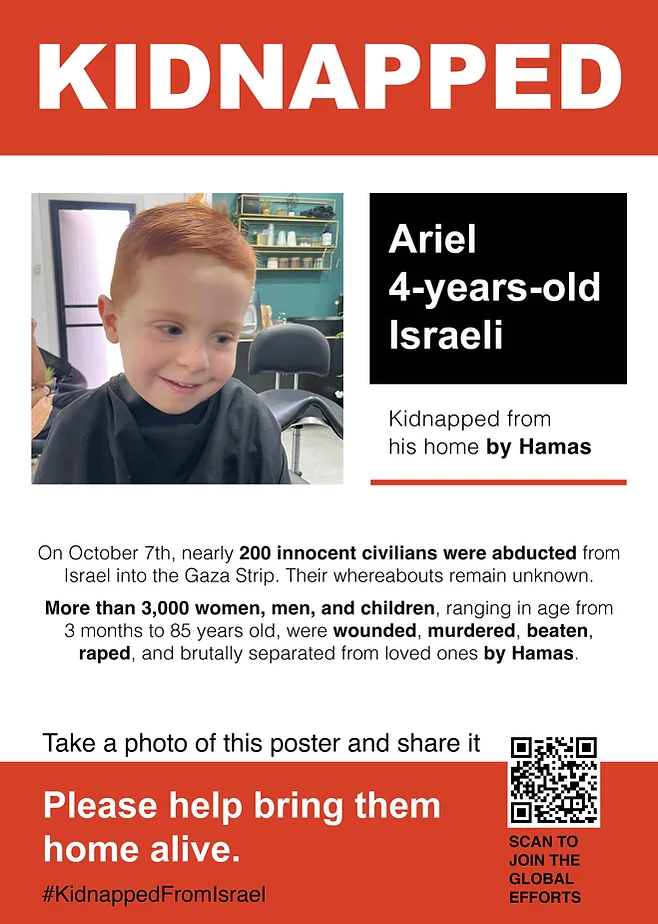 Following the intensity of IDF's assault on Gaza some people are starting to make noises about a ceasefire.
I really don't care what The World thinks.
Now I wish I had written this piece, but here, Times of Israel blogger Avi Lewis says it exactly: (click to read blog post)
Dear World: I Don't Care
---
Update 30th October 2023
IDF has rescued an Israeli soldier last night.
---
Update 29th October 2023
239 Confirmed Hostages in Gaza, the number changes as information comes to light, and as more bodies are being identified from the ashy, mangled remains found in the invaded settlements.
1,400 murdered.
4,000 injured.
4 hostages released so far, a mother and daughter who are also American citizens, and two elderly Israeli women who were in a bad medical condition.
Hamas is trying to use this cynical drip-drip of hostage releases to delay it's own demise. It won't work. We won't play this game.
Israeli Air force is methodically flattening Gaza.
The ground maneuver seems to have started, although the fog of war and the dismal hazy weather makes it hard to tell for sure.
The horror stories from Oct. 7th pile up and get harder and harder to bear.
The last one that has me up at night is from the paramedic who found two girls who were raped, mutilated and murdered. His report on what Hamas Terrorists did to them is not one I or any human being can repeat. 
But there are other stories emerging, too. Ones of how our people fought back bravely. Stories and names and faces of the dead, and the kidnapped.
I know we will rise back up from these ashes.
This Meme has been going around a lot. It sums up exactly how I feel.
Friends ask me how I feel about the people in Gaza. 
I don't. 
I don't feel anything for them at all. 
There used to be some sympathy in the general sense. We thought that if they were happy we would be too. But now a part of my soul had calcified and died away.
I feel nothing for them. Not even hate. 
---
Illustrated War Journal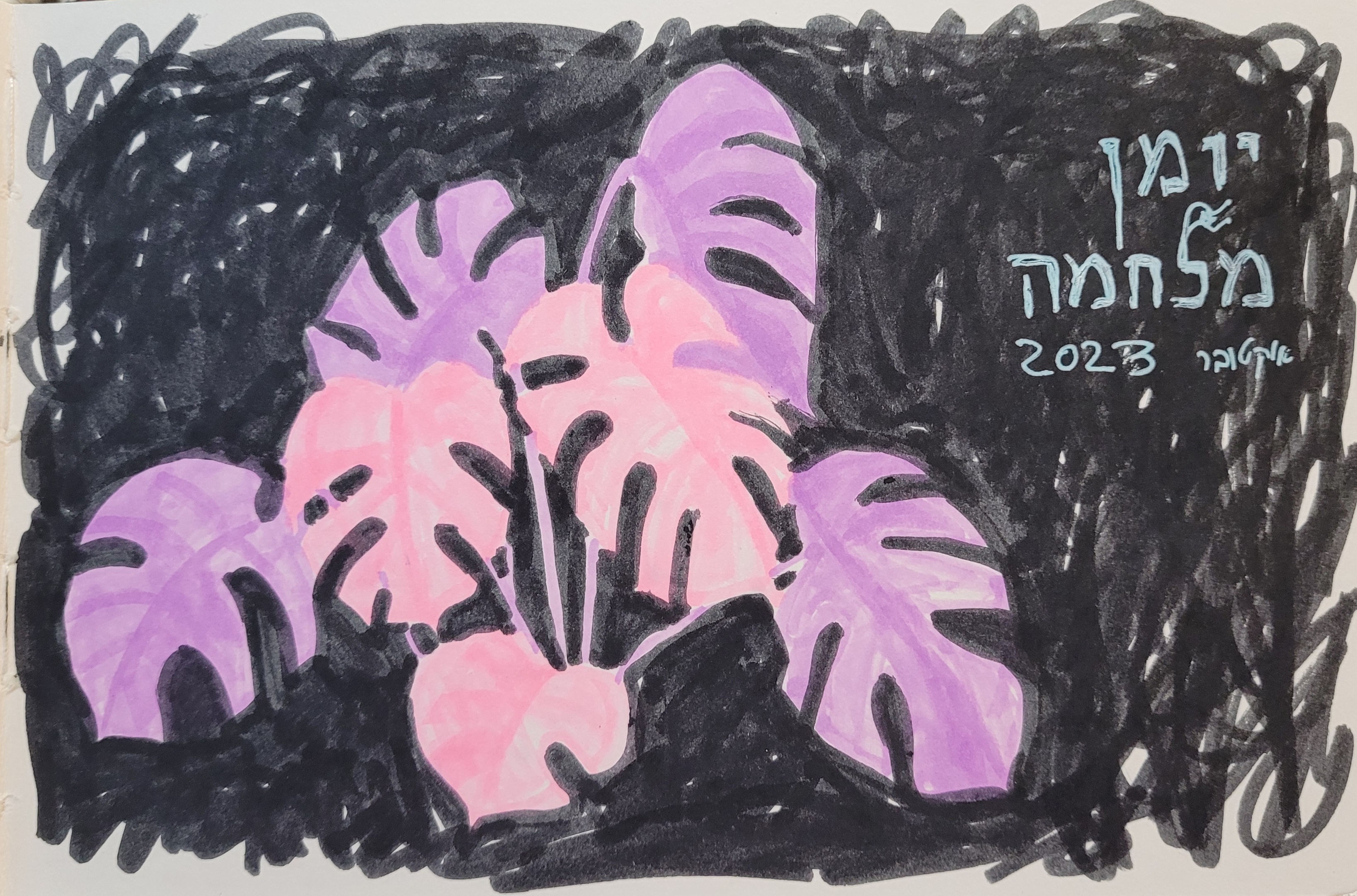 Illustrated War Journal, title page in my sketchbook
After two weeks of dumb grey nothingness, I took out my sketchbook and started an Illustrated War Journal.
I'll upload the pages as I draw them.
They will probably not be in order of events, and style will likely change all over the place, because I'm not planning this out. 
It's how I process what happens to me.
I write the texts in Hebrew, look for the translation in the captions. Maybe I'll write some of them in English.
You can follow them here, and on my Instagram @nettacanfi
Have you seen it?
Have you seen the reports from Kfar Aza and Kibbutz Be'eri?
From the Nova Music Festival?
You must.
If you are human you won't sleep after that but I think YOU HAVE TO KNOW.
YOU CAN'T NOT KNOW.
Because this happened on the same planet you live on. Not on another planet. This happened on YOUR world, and as a human being, you need to make a stand.
Stand with Israel.
Stand with Humanity.
And make it loud and clear.
---
Rachel with the Cookies
Give me a moment to figure out how to translate this, and I will tell you why this woman, Rachel, and her cookies, is the greatest hero of this war, dominating the memes, a wonder woman giving us all hope, wishing we could be like her.
Seriously it's breathtaking. Stay tuned.
---
You Can Help!
Donate to help Displaced Families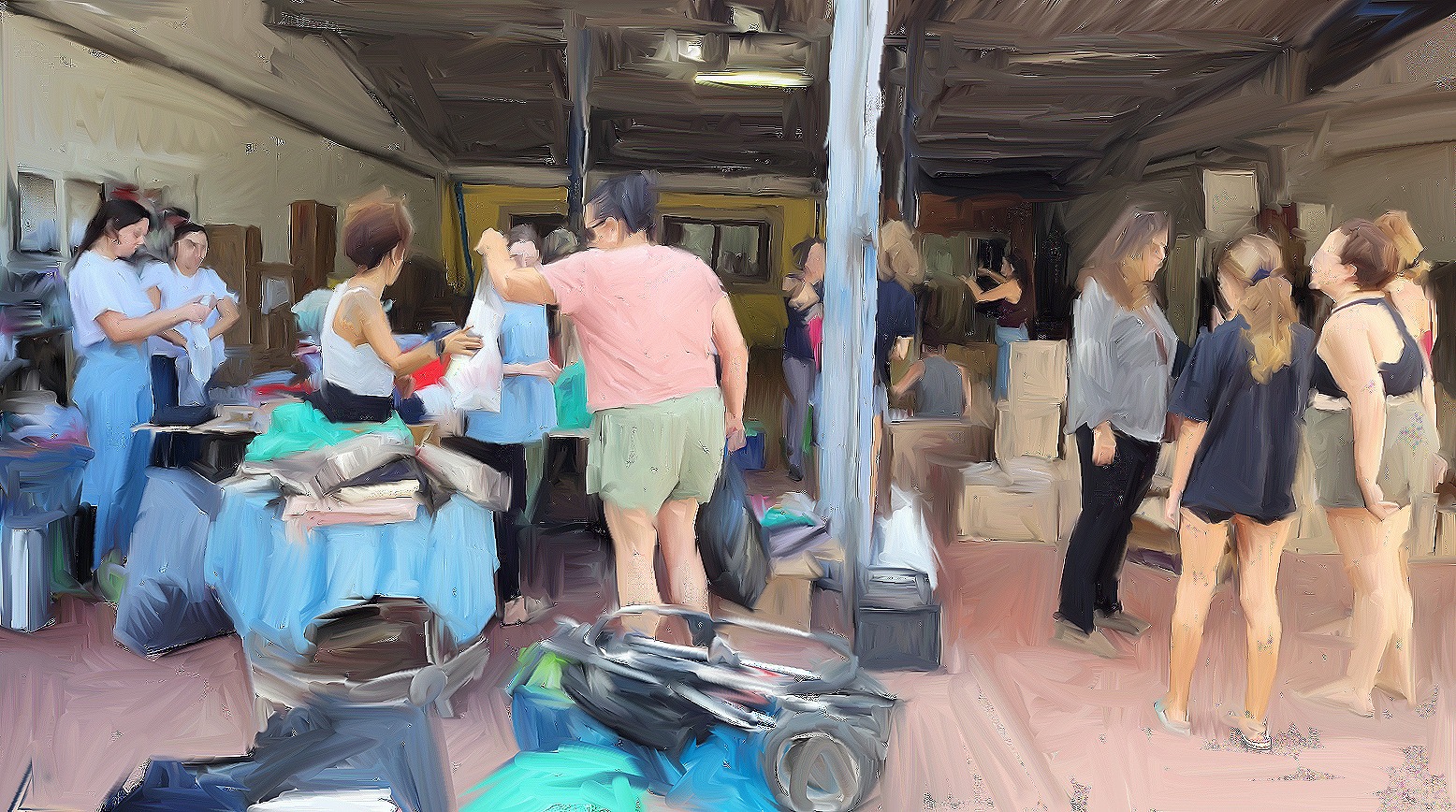 Sorting Donations. Artist's rendering of my photo, by Issac Jacobs
---
---
Ever wondered WHERE Israel is?
Here's a map drill-down infographic, followed by a bunch of Q&A that I hope will put some things in order: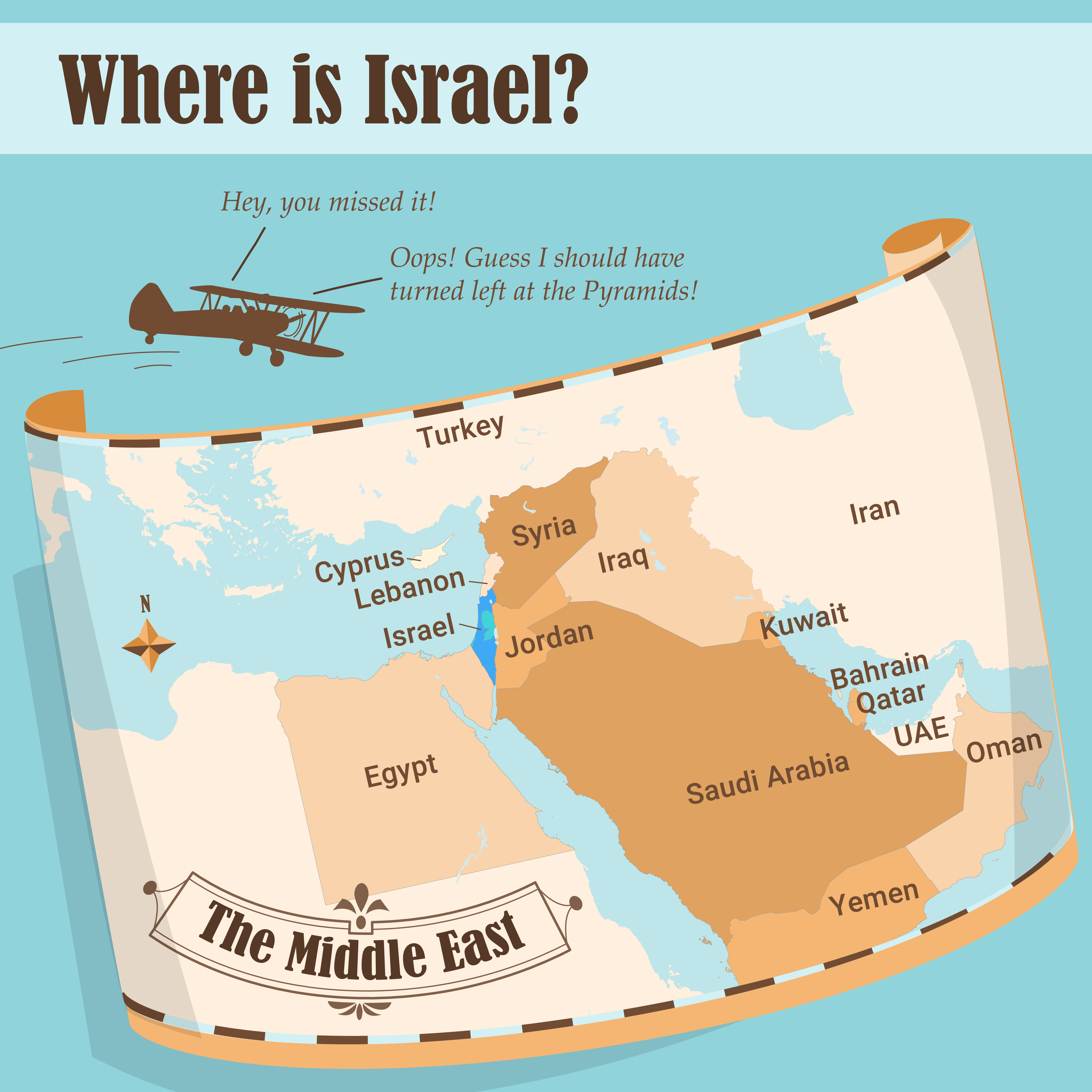 ---
---
---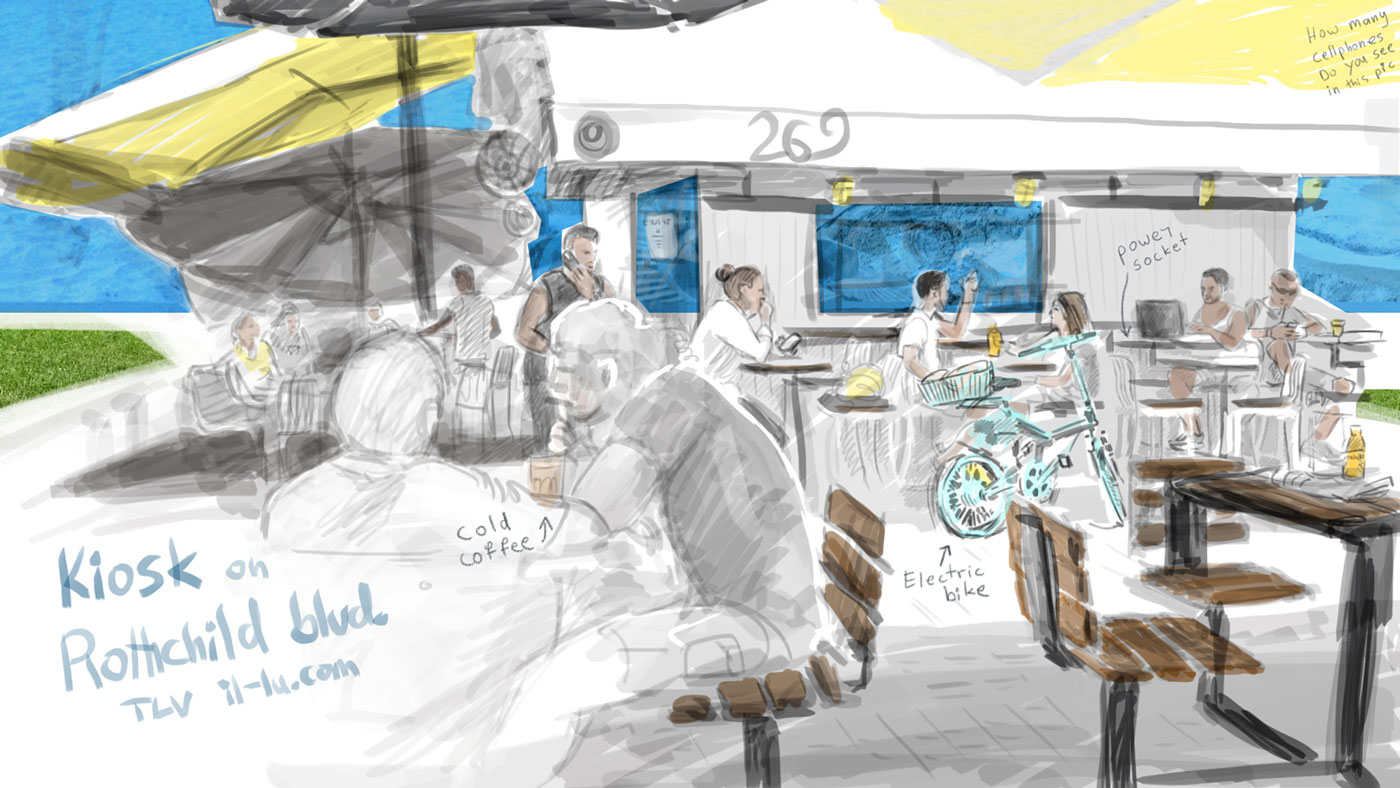 Living in Israel
Stories that illustrate what life in Israel is really like - for example, the Cafe-Kiosk where the wifi is free and everyone you meet has an idea for the next great startup :-)
---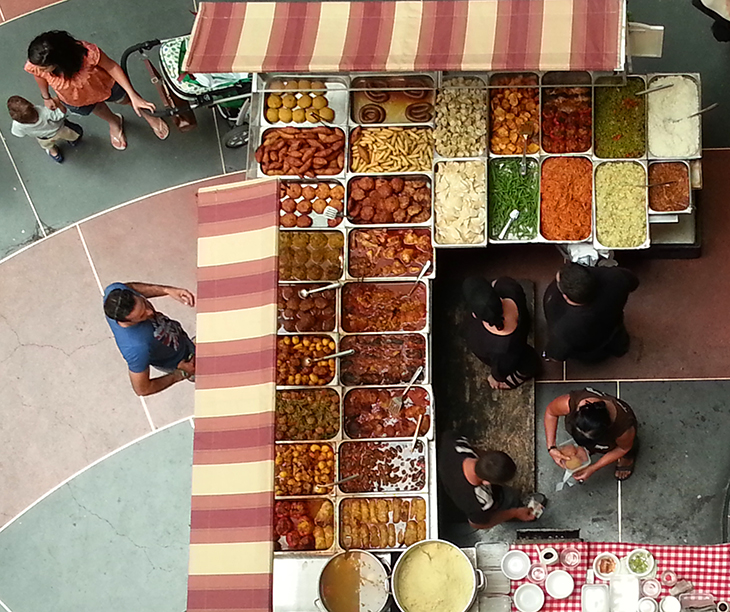 We love to eat. 
Israeli food is the delicious culmination of jewish eating traditions from kitchens all over the world ("you look pale, eat something"), meeting the fresh mediterranean diet. 
Falafel and Humus, juice stands, sushi bars, steak houses, vegan menus and everything in between - we've got it all.
Sit in one of the fashionable sidewalk cafes in Tel Aviv, order a big salad and ice coffee, and you'll never want to leave :-)
Try the recipes for the classic Hummus recipe, and how to make Labane cheese:
---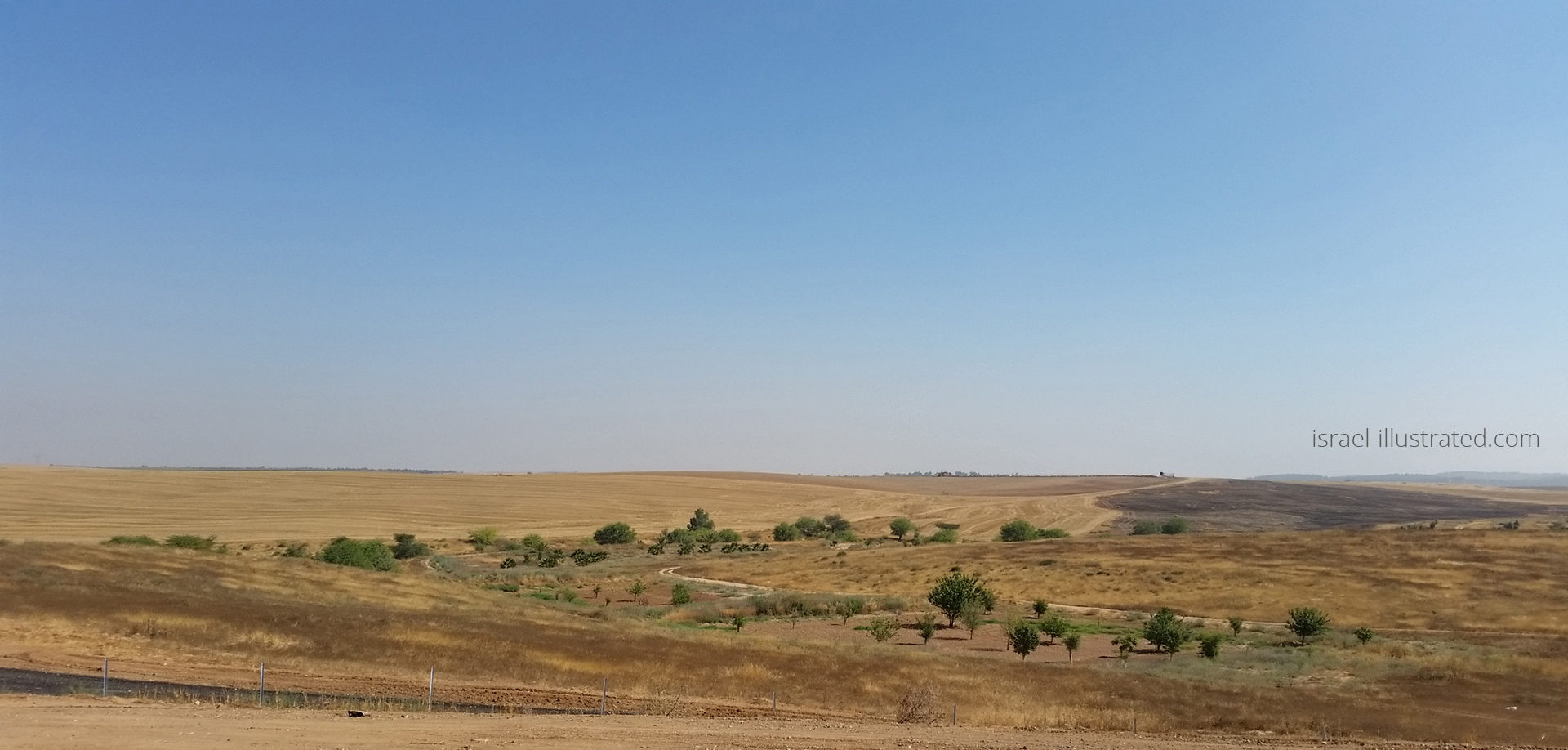 The weather in Israel is both a challenge and an opportunity. 
For example, practically every house in has a solar water heater, and we solved the worst of our drinking water shortage with desalination technology. 
Still, the heat is part of our daily life, so we need to find ways to live with it.
Find out how we save water, 
And when you go shopping in Dizengof Center, make sure to visit the Hydroponic farm on the roof!
Whatever you do, please don't miss the warning about the Israeli SUN:
---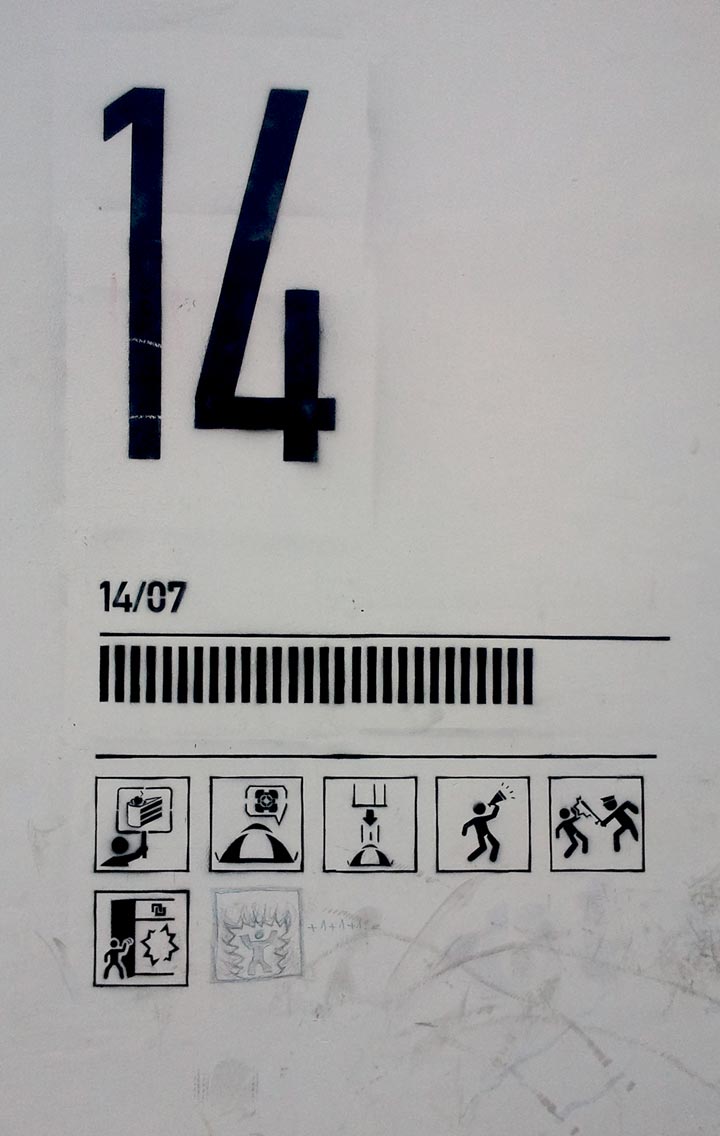 Tel Aviv street art
The writing's on the wall, especially here. 
What I find so unusual about Israeli graffiti, is how much of it its text, or text based. Walking the streets of Tel Aviv is like reading a coded newspaper. Here's this wall for example, depicting the events of "the Tents Protest":
---
A quick note about phonetic spelling:

There are lots of names and words on this site that are phonetic transcripts from Hebrew. The way to read them, and pronounce them, are according to the basic vowel sounds:
A – say "ah"
E – "eh"
I – "ee"
O – "oh"
U – "oo"
---
---
---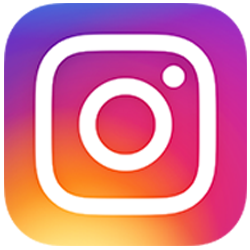 Follow Me on Instagram:
https://www.instagram.com/nettacanfi/
---
---
Copyright notice –
All visual material and other materials on this site are copyright of israel-illustrated.com, unless indicated otherwise.