Coronavirus in Israel
It's been a whole year. With over half the Israeli population fully vaccinated life is slowly returning to some kind of normal.
I had a hard time writing about events as they happened, and didn't post for a whole year. 
Now that I'm breathing again I'm starting to process everything that's happened, and how things have changed, and how I have changed.
#8 Update, April 7
th, 

2021 - one full year later

From Lockdown to Freedom

Happy Passover!

This year we are blessed with newfound freedom, thanks to the successful vaccine drive.


Last year I couldn't find eggs to make Kneidlach. I made Haroset all by myself and it was the loneliest, saddest Seder in my life. 


One year later, fully vaccinated and after a fourth trip in two years to the voting booth, I'll be celebrating the holiday with my whole family again.

#7 Update, April 20
th, 

27

th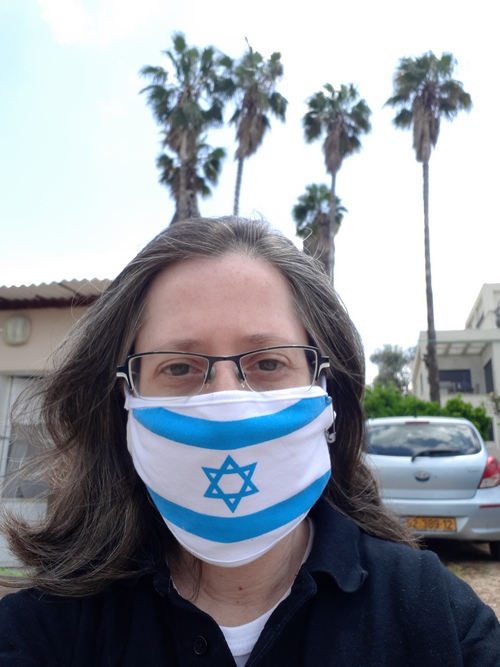 Strange times:
How the pandemic altered Israel's most emotional days
The Shoa Memorial Day, 
Memorial Day for fallen soldiers and Terror victims, 
and Day of Independence which immediately follows.
---
#6 Update, April 15
th
The Zoom Seder Dinner was one of the strangest and also saddest Seders ever. Let's just hope it was a one time thing.

On the week before the Seder, news were becoming more and more persistent that we will be forbidden to reunite with our families for the holiday this year.
---
#5 Update, March 28
th
Covid-19 has arrived in the holy land.
12 dead, 3,035 confirmed cases, and today, Tel Aviv looks like this:
We are almost officially shut down. The government - looks like we're actually going to have a real one - is doing this in what we call the Salami Method: one thin slice at a time.
But the number of confirmed cases are going up, and so it looks like complete shutdown on Sunday.
Yesterday the political drama was so brutal it made us forget Corona for a few hours.
Benny Gantz, the Blue-White party leader who was going to replace Bibi, has flipped in the most spectacular political gymnastics in living memory, and agreed to "get under the stretcher".
Citing the Corona crisis as no time for partisanship, he joined the guy he vowed to replace.
The Blue-White party which a million and a half people voted for, is no more.
How this will all play out still remains to be seen. History will tell who was right and who was stupid. In the meantime, a million Israelis are out of a job. It looks like the economic crisis is worse than the epidemic at this point, so Bibi or no Bibi - we need a working government. 
A bit of nostalgia cheered me up a lot - Zheu Zeh is back!
After several weeks of scary news and scrambling to get ventilators and other supplies, Israel has finally deployed it's strongest weapon of all:
It's not the Iron Dome.
It's not the Mossad.
Wait for it -
It's HUMOR!
All the funny people in the country who had their shows canceled now got off the couch, put some clothes on and went out to make people laugh :D

Stand up comedians and singers do rooftop and balcony shows for all the neighbors who are shut indoors.
The funny shows on TV figured out how to do the show under the new restrictions. Now there's a good belly laugh waiting for us right after the PM finishes the daily scare on the news.
We laugh at EVERYTHING - the Prime minister, the doctor on the news with his graphs, The Hareidy minister of health who think the messiah will save us just before Passover gets canceled - which it already is, let's face it. Passover is two weeks from now. It's going to be a Zoom Seder dinner, so we might as well laugh about that too!

Last but not least - the mythological TV show "Zehu Zeh!" (That's It!) has made a comeback to cheer us all up, just like they did back in the Gulf War in 1991.
The good ol' guys are, well, old! haha but still as funny as ever.

The last time we were all instructed to stay inside I was just a teenager, and there was no internet, if you can imagine that.

We thought Saddam Hussein was going to fire chemical weapons on us and we all stayed indoors for weeks. I still have my gas mask in the back of the closet, I kid you not.
Anywayyyy - these funny people on Zehu Zeh got us through it back then, and seeing as they're all still alive they've been called back for funny-duty :lol:
I've been told that we are all going through the typical stages of grief with the Coronavirus - Denial, Anger, Bargaining, Depression, and Acceptance - which, if you can get there - leads to Action.

I have certainly recognized myself as going thru all of these stages, but nothing really comforted me like the good belly laugh I got today.
#4 Update, March 23
rd
Where we are at:
1,283 confirmed cases, 24 in critical, 1 dead.
So far only one man died here 88 year old Aryeh Even, but things are looking grim for a handful of more people.
We are shutting down more and more every day.

You'll see Israel's numbers go up quickly now but that's mostly because we finally got serious about testing.
We have stupid stories here, like 3,000 of the test swabs were the wrong kind and the lab couldn't process them.
It's just the normal Balagan (Israeli mess :roll: ) which is so typical for us, but I hope now we got over the kick-starting issues we'll finally see some results.
What's with the eggs, people???

Getting eggs is getting harder and harder. Look at this shelf from the supermarket last night:
Let me be clear - there is plenty of food in the supermarket! It's only the eggs that are going.
I tried to figure out why this is, and the common wisdom reply is that now the kids are home, they eat all the eggs.
The other shelf that's empty-ish is the "Ekonomika" the popular local brand of HCl solution for bleaching your house.
Toilet paper madness seems to have calmed down, so that's something :)
The economic collateral damage is just getting started.
Everyone is just hoping the government will bail us all out somehow, but I don't see it happening so quickly.
About half a million people just lost their job/business and no end is in sight, we're free-falling.
I don't think anyone here will starve - already communities are getting together to help each other, but it's looking like a nation on food-stamps in the making.

I live in the country now - and today I seriously found myself looking at the back yard figuring I could stick a couple of potatoes there, and throw a bunch of tomatoes too (they grow easily here).
I hope it won't come to that!
Dangerous times setting dangerous precedents 
My government is now tracking my cellphone to check if I've been in proximity to a confirmed case.
I know this is very effective and I would probably not object under the circumstances, except for the way they did it.
We have just had our THIRD election in a year - with political deadlock STILL unresolved.
What this means is that the current government is Unelected and has ZERO oversight from the legislative branch.
Tbh, this loss of civil rights scares me more than the virus.
I'm hardly alone in feeling this way - protests have already broken out. The police apprehended some of the protesters, on grounds of breaking the health regulations that prohibit a gathering of more than 10 people, but this did NOT go down well either.

Now the new instructions from the health ministry specifically allow protesting.
What is Israel doing to fight Covid-19?
It looks like Israel is having a mixed-bag reaction.

We're on lockdown, but it's not official, just "instructed" to stay home. Getting more and more official every day though.
There's the cellphone thing.
The Army "Home-Front Command" (Pikud HaOref) is taking over hotels that are now empty of tourists and converting them into "Corona Hospitals", where anyone tested positive is going to stay until recovered.
On the testing front, "They" are promising that we will be up to 10,000 tests a week within a week, which I think is not bad for a population of 9 million, but means we have to stay on lockdown for at least that long.
I just hope that as testing progresses, the lockdown will be lifted.
That's it for today - stay safe everyone!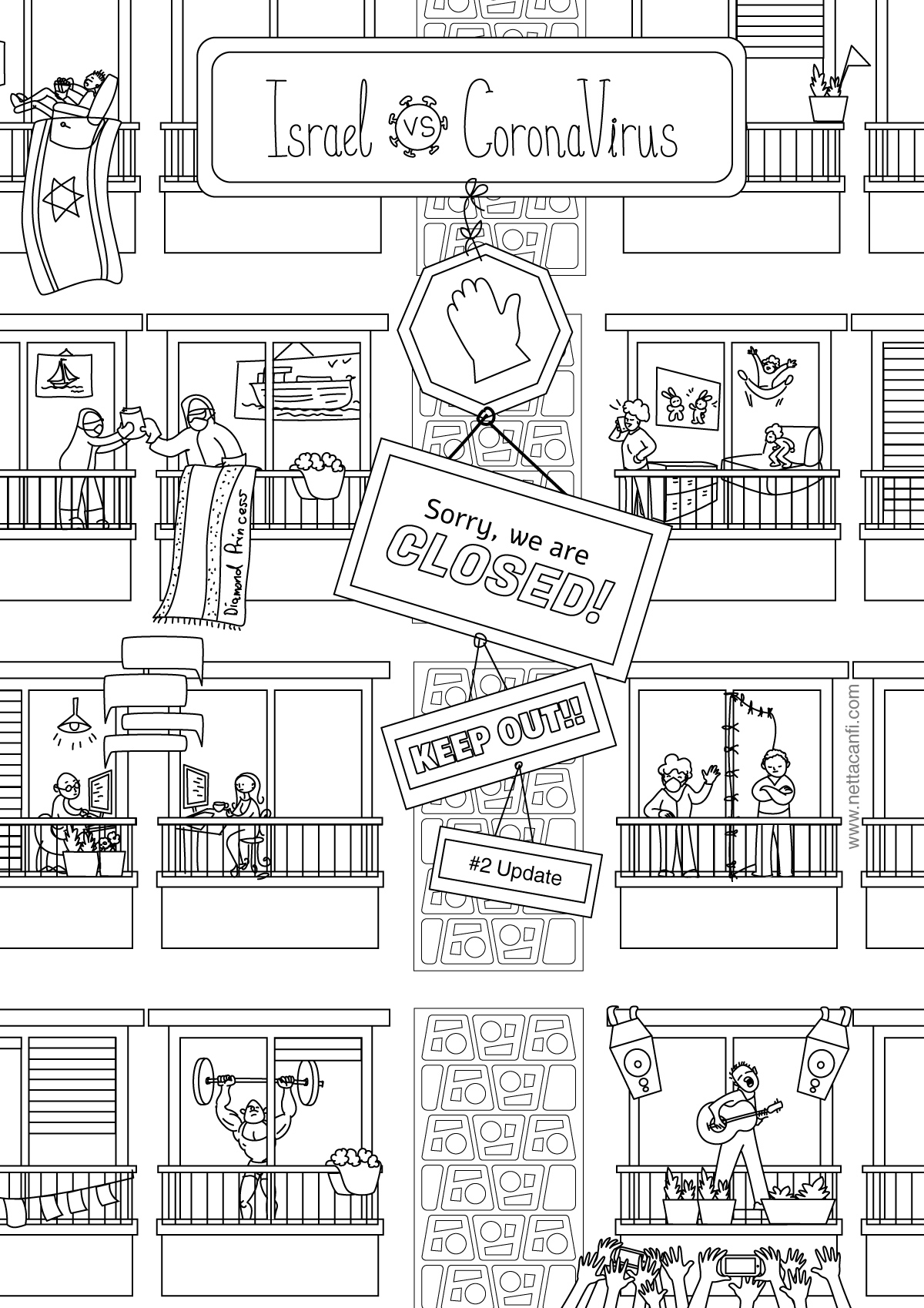 #3 Update, March 17
th
After two days of empty shelves in the 'makolet' (small grocery store) I finally got some eggs today.
Israel is locking down.
Schools, universities and childcare are all closed till at least after the Passover holidays.
Today we got an official decree from the Ministry of Health stating, among other things, that going to the beach, shopping malls and parks is now forbidden.
This came after the beaches were full yesterday - people figured this was a nice extra holiday and were obviously not impressed with Corona.
I'm afraid we are not a very disciplined people. Which leads me to the horrific new development:

Israeli government now tracking citizen's cellphones 
They passed this measure at half past one in the morning.
The new Knesset was sworn in only hours before, and this was done by the transition government without any legislation oversight. We were told this was coming but I'm still *&%*!@
Israeli government is now tracking the cell phones of all people who are known to have Coronavirus. If your cell phone was near their cell phone in the past 14 days - you it, tagged!
I find this outrageous. I won't stand for it. 
With all due respect to the virus, I now feel I have to make sure this crisis will not become an excuse to take away privacy and other forms of freedom!
#2 Update, March 14
th
Number of confirmed cases: 164, 2 in critical condition.
Deaths: Still 0.
Air travel has been practically shut down, and most airliners have stopped service to Israel entirely. El-Al is in deep trouble, about to fire 1,000 employees. 
A government bailout is underway, not just for El-Al. They put down 10 Billion NIS to start with, and are expected to lay down much more.
All schools and universities are closed until after the Passover holidays. Guess we'll see what happens then.
Kindergartens were not declared closed, but the public thinks different and last Thursday 70% of caretaker just "called in sick" and parents simply didn't send their kids to the Gan, so that looks like that.
The Hardest Hit - Performers, Hotels and Restaurants
As of a few days ago, all gathering are restricted to no more than 100 people. This means no more big weddings, music concerts, cinema or theater, no crowds in sport events - all shut down and cancelled.
International conventions in Israel are now BANNED.
This sent the entire entertainment and hosting industries into a tailspin. Some government help has already been announced, but it is already clear that many business might not recover from this blow.
Here's hoping the taxes due on the 15th will be postponed.
Currently, the Memorial Day and Independence Day ceremonies are set to be performed without an audience, which is simply awful.
The Good News Corner:
All the Israeli cruisers infected on the Diamond Princess have recovered or declared clear and are now HOME!
To celebrate, here's a very suitable bit from The Late Show with Stephen Colbert (the good bit starts at 0:14 seconds)
---
Edited - this was the first update:
How is Israel Coping?
I think we Israelis have a couple of things going for us:
We are very good with crisis (we're just used to it), and we actually do have a rather good public health-care system, even though we love to complain about it.
Also, we help each other out!
For weeks now, there are voluntary organizations of teens helping people in quarantine, doing grocery shopping for them and helping in other ways.
We will get thru this. Stay safe everyone! and wash your hands with soap.
---
So far (as of writing this, March 9th) no one has died, and all the confirmed cases (39 people) but one are imported, meaning people got the virus abroad. That leads us to the latest craziness:

Israel has Closed Its Borders
As of today, if you are not a citizen coming home, you will have to prove you can spend your first 14 days in Israel in a home-quarantine, or you will be turned back.
Israel is a sort of an island. Our borders are not the type you drive thru with your car, not casually anyway, which makes the country rather easy to close off to visitors. It's just the one airport you need to shut down.
All the official information from the Ministry of Health is in this link: 
https://govextra.gov.il/ministry-of-health/corona/corona-virus-en/
It's available in Hebrew, English, Russian and Arabic.
In Hebrew only here's a map that provides information on where the confirmed people spent time, and if you were there with them you must report yourself and go into quarantine. 
Israeli Scientists Working on a Corona Vaccine
Of course they are! LOL
A lab in the Nes Ziona Biological Institute was working on a corona-family virus in birds, and they were just about to lose their funding when Human Corona entered our lives. 
Needless to say, they have funding now :) 
They claim to be ahead of the game of other research teams because even though they worked on a different virus strain, they have already figured out a lot. They think they can adapt their antibodies growing method to the human strain.
Let's all wish them luck!
In the meantime, if you are reading this stuck at home in quarantine, I wish you well, and perhaps I can offer you these Purim Coloring Pages as a fun way to pass the time :)
Happy Purim (it's today!) and good health to everyone.
---
---
---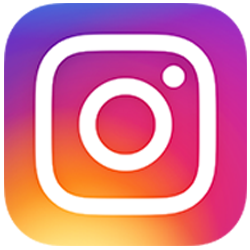 Follow Me on Instagram:
https://www.instagram.com/nettacanfi/
---
---