Getting Around in Tel Aviv
Getting Around in Tel Aviv:
Alternative Modes of Transportation in a Congested City

With traffic congestion getting impossible because of the Light Railway construction, Tel Avivians are coming up with new ways of getting around, using all the resourcefulness and creativity Israelis are famous for:
Electric Bike

Electric Bicycles in Tel Aviv have reached epidemic proportions.
By far the fastest way to get around, Tel Avivians sell the car and buy an electric bike. You know it's more than a fad when offices start making "bike rooms" for parking in the basement.
Trouble is, it started as a "sport" vehicle with no regulations, no speed limits and no bike lanes to ride on.
They finally got so out of hand, that Israeli government now is forced to step in and start making some laws.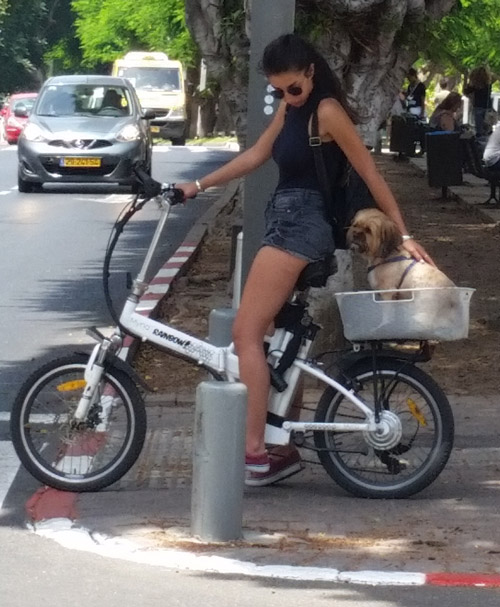 Regular bike

Bring your own. Recently, the Tel Aviv "Iriya" (- Local City Council)  started offering a bike registration service. So many bikes get stolen the local populace is outraged. Now you can get a registration number engraved on your bike so if it gets stolen - and then - miraculously - found, you'll be able to prove it's yours and get it back.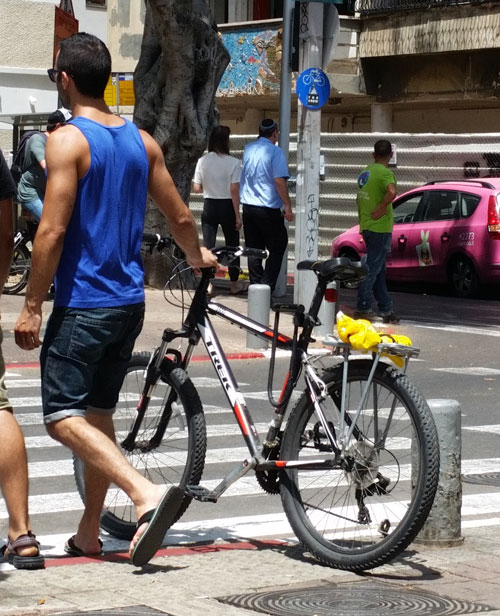 Green City Bikes
Like many great cities in the world, Tel Aviv has set up public bike stations for hire around the city. Although not without hiccups, the project is very successful and is now expanding to the neighbouring municipalities.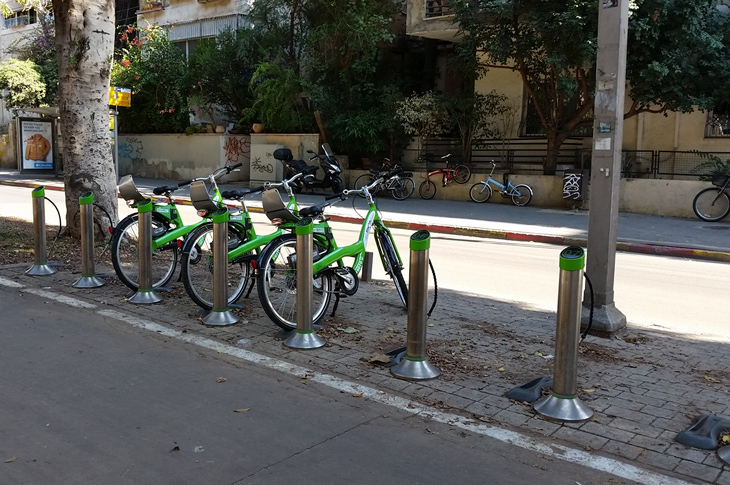 Uni-wheel
This needs some practice.
Looking at them roll down the street makes me feel I'm in a Sci-Fi movie.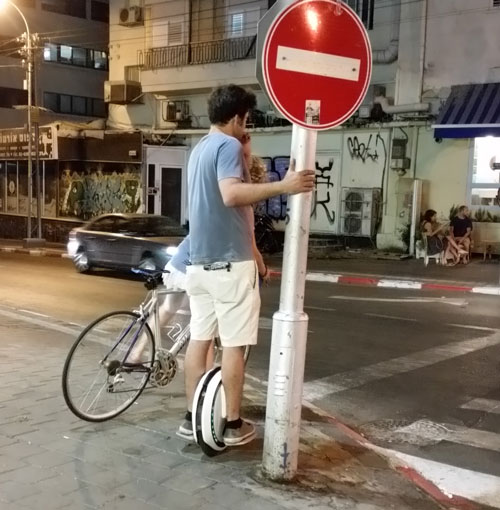 Segway and Electric-Korkinet
The official segway, followed by the more popular Electric Korkinet.
The 'Korkinets' come in all variations, from simple versions with rollerblade wheels that you push forward with your foot, to fancy ones with  seat.
If you hang around Rothschild Boulevard long enough you might catch a glimpse of famous chef Israel Aharoni, riding down the street on his korkinet, his signature eyebrows flapping in the wind.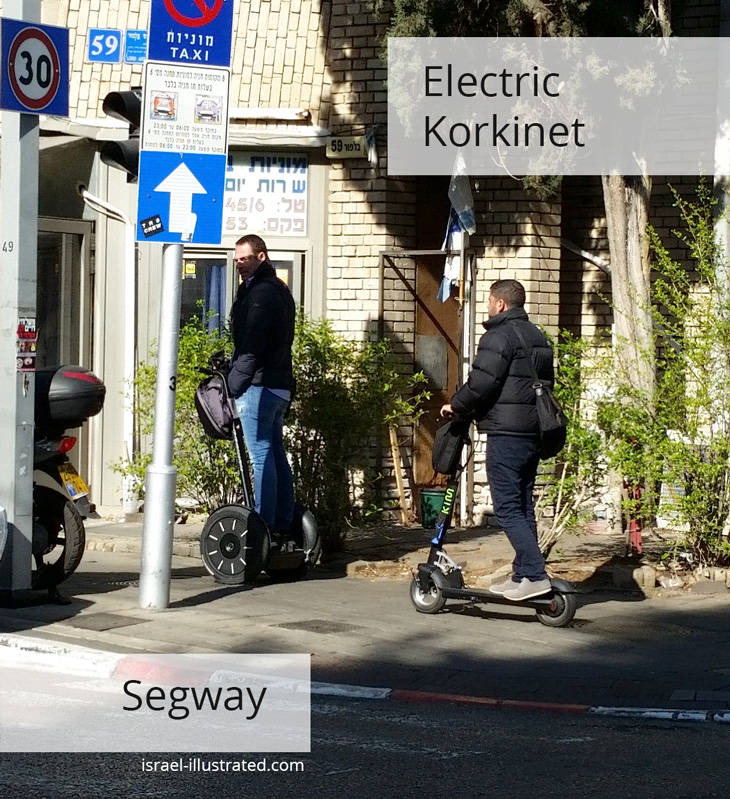 Electric Skateboards

Somehow I get the feeling they are home made. At your own peril, yeah?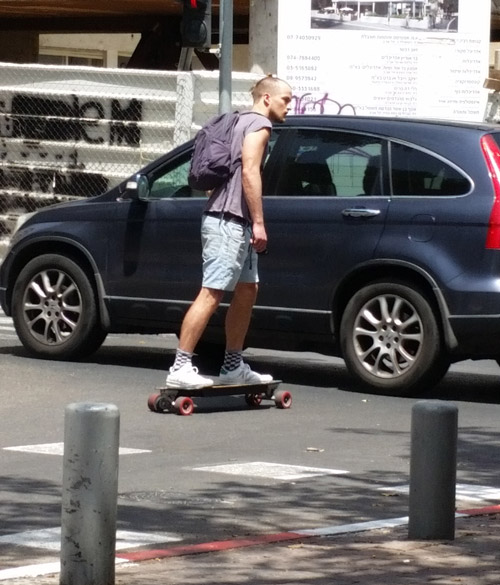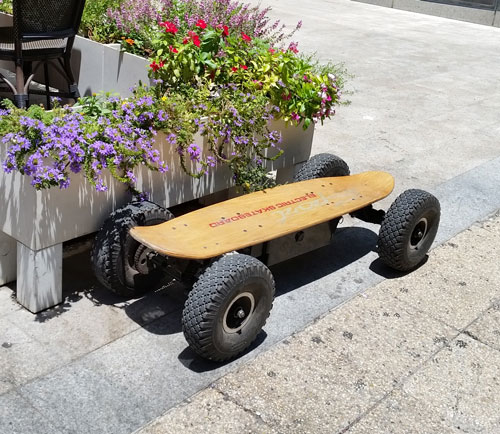 Mini-Segway
Guys in my shared office, the magnificent Mindspace, ride this contraption up and down the hall in the evenings.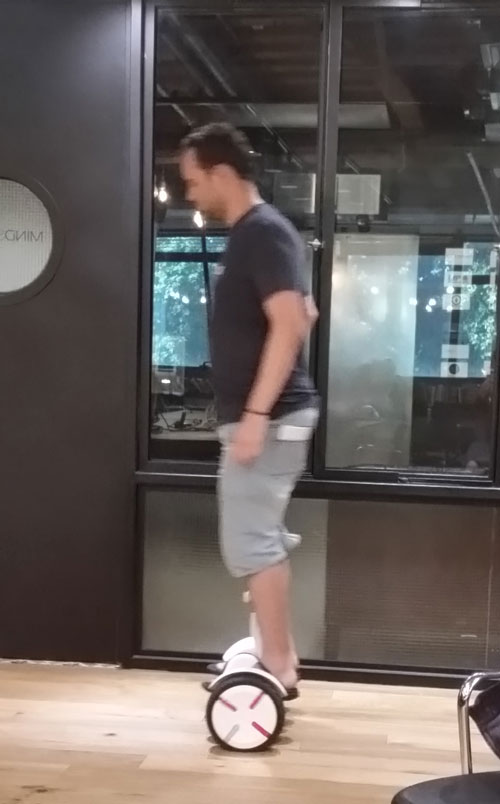 A Magic Carpet

Sighted in Allenby Street, Tel Aviv.
This is the Middle East, after all :-)

---
---
---
---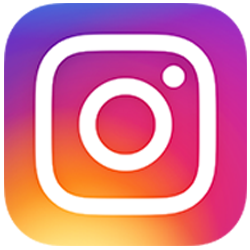 Follow Me on Instagram:
https://www.instagram.com/nettacanfi/
---
---
---